The PRINTROOM has been providing a quality printing service to the voluntary sector for the last 14 years. It has evolved from its roots as the Community Printing Project based at Ty'r Binwyddyn (for those of you with long memories) to the expanded services we currently offer at Corlan. Still very much part of FLVC, we are now able to offer our print and design service to everyone whether they are in the voluntary, statutory or commercial sector.
We are able to turn around your print job very quickly (in many cases the same day or next working day) and you still do not need to order a minimum number of copies of any product you order so you won't have to pay for copies you don't need!
Our customer focus remains the same – to offer a reliable, cost effective, and friendly service to everyone who comes through our doors, whilst maintaining the quality of our products.
If you would like a quote for any of our services please do not hesitate to give us a call on 01352 744031, or email theprintroom@flvc.org.uk. If you don't see what you need on this page then please ask us – if we can do it we will!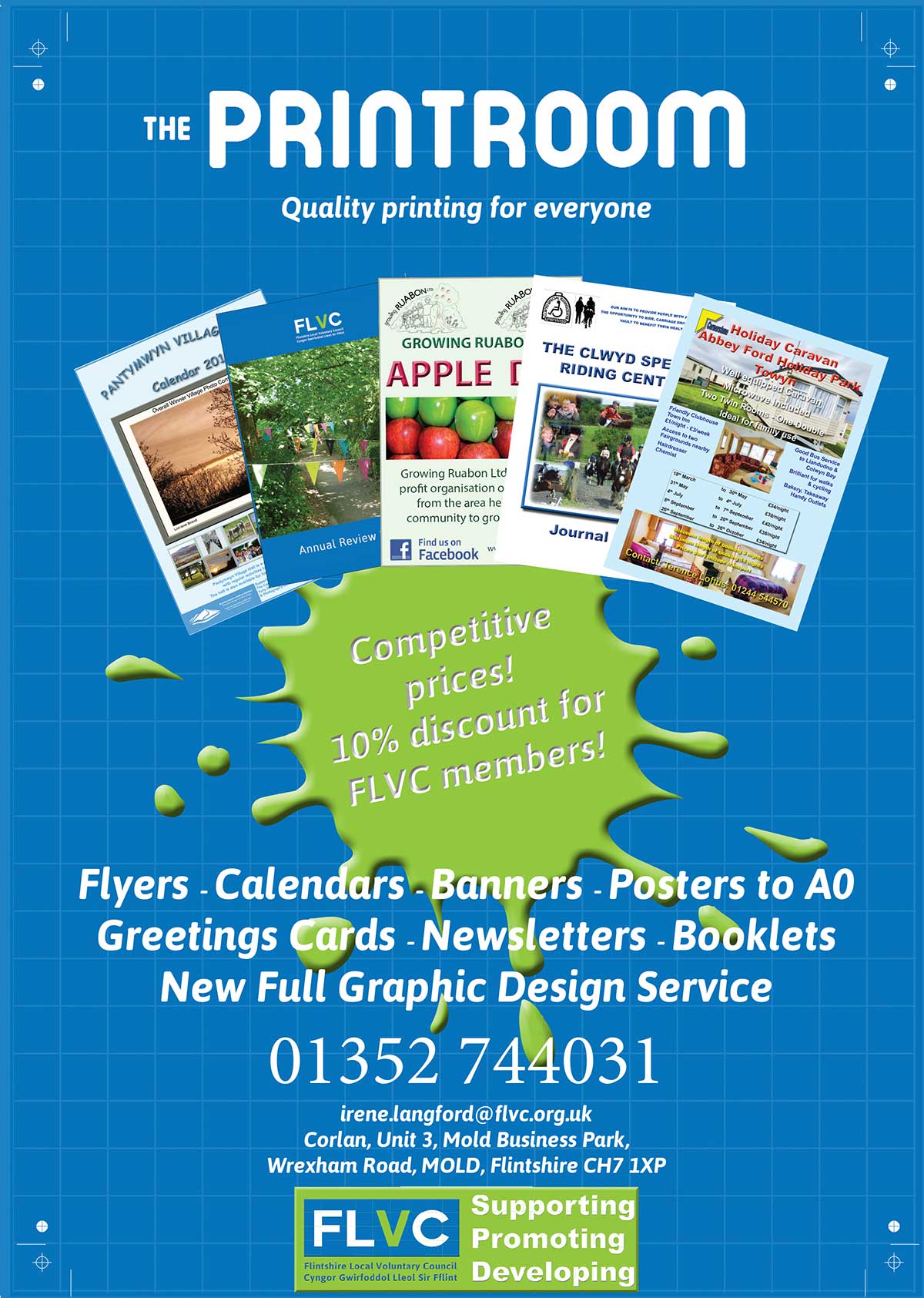 Prices and Services
Photocopies / Prints from 6p
A5 booklets from 20p
Colour flyers from 30p
Newsletters from 10p
3 fold leaflets from 13p
Posters up to A1 from £15
No minimum number of copies!
Laminating up to A3
Calendars
Comb binding
Business cards
Folding machine
Design
Powered guillotine
10% discount for FLVC members!
FLVC Member organisations get a 10% reduction. Having printed your newsletter or leaflet you can arrange to have it mailed out. For more details and a quote phone us on (01352) 744031 or email theprintroom@flvc.org.uk Printroom, Corlan, Mold Business Park, Wrexham Road Mold CH7 1XP