Sources of support, activities, resources & information to help you stay connected & occupied whilst observing COVID-19 restrictions
Find our COVID-19 collection
here
. 
Information published in ebulletin dated 23rd October 2020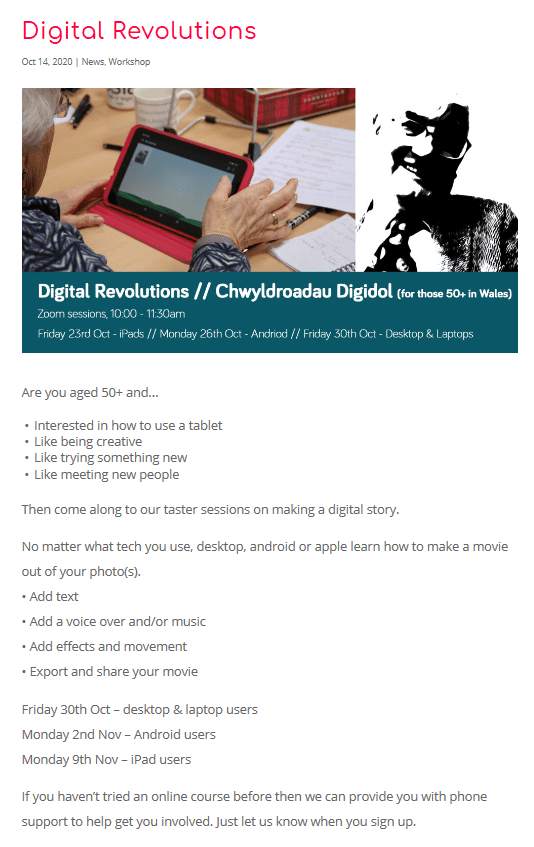 More information and registration details here.
---
Calling all knitters (and would-be knitters) – The DPJ Foundation needs your help! 
Can you "knit a bobble for that wobble" – we want you to help us raise awareness and funds so we can help people with poor mental health in the farming community in Wales.  Please see the information flyer below for further details.
 
Knit a bobble for that wobble
Wau bobl ar gyfer y wobl
Information published in ebulletin dated 9th October 2020
Getting together matters from Volunteering Matters
Fitness, pilates, quizzes, bridge, creative writing, AND MORE on Volunteering Matters Calendar of Events. Internet access NOT essential. To join in call Karen on 07377 692 408 or email gtm@volunteeringmatter.org.uk
---
The Daniel Owen Festival
"A week-long bilingual arts heritage and literature festival in Mold, Flintshire and surrounding area dedicated to author Daniel Owen. It is held around the end of October the anniversary of his birth and death. This year it runs again from Saturday 17th until Friday 23rd October."
Fund events and activities
Heritage, language and culture
Walks and talks
Information published in ebulletin dated 2nd October 2020
NEWCIS News Winter Edition
The Winter edition of NEWCIS News is out now! We hope that our virtual carer groups and courses bring you something to look forward to over the next few months during these unprecedented times. It also features Carers Rights Day and Christmas!
Read it online https://bit.ly/36lh514
Book events online www.newcis.org.uk/events/
Information published in ebulletin dated 18th September 2020
NHS Wales – for those feeling depressed or anxious
"SilverCloud might be able to help you. It's a new online Cognitive Behavioural Therapy (CBT) course which offers a range of modules to help you manage your mental well-being for free and with no referral needed."
---
Betsi Cadwaladr University Health Board – Post COVID-19 Health & Wellbeing course
"…free to anyone who has had COVID-19 and is experiencing post COVID symptoms. The course is about learning important skills to help manage your symptoms.
Book a space: 03000 852280/ eppcymru.bcuhb@wales.nhs.uk"
---
A new service offered by Red Cross, for people who have been affected by the COVID-19 pandemic and who may be in need of support to help them with their mental health.
English information sheet
Welsh information sheet
---
This years' Adult Learners' Week is on the 21st – 27th of September, and there are plenty of events you can take part in online.
Information published in ebulletin dated 04.09.20
We have also set up a befriending service and have set up You tube videos which are all on our You tube channel."Coed Lleol Small Woods Wales FREE Online Nature Sessions 
"We are running online zoom sessions on a daily basis during these uncertain times and hope to get back out into the woods to deliver our courses for those with physical and mental health issues.
 
Our website gives you information about our projects and we have put together an online GP referral form for GP's to use for suitable participants to our groups. We deliver all over Wales and have set up online courses on different themes each day https://www.coedlleol.org.uk/naturefix/ the individuals need to register (once) and then they are sent a password to access the sessions.
---
NEWCIS
Our virtual drop in is a carer friendly zone. Join in from the comfort of your own home, chat to other carers and enjoy a cuppa.
Next drop in date Wednesday 9th September 11AM – 12PM Book your place here.
Information published in ebulletin dated 25.08.20
Feeling down?  Anxious?  Depressed?  Worrying?  Free self-help online video course from Public Health Wales
"ACTivate Your Life on the Public Health Wales website
This is a free psychoeducational resource for all adults and we hope that it will be widely accessed and will prove useful to many, many people – including those who would normally have benefitted from live presentations of the course through Health Boards across Wales as well as the specialist versions presented in clinics and prisons.
We hope that when the restrictions due to the pandemic subside, the live presentations of ACTivate Your Life will resume, with the online version then remaining as an additional resource.
The online version is available in both English and Welsh and retains the structure of the live version. Thus there are 4 videos, each lasting approximately 45 minutes, and accompanying written synopses and Activity Sheets as well as some guided Mindfulness audios."

Here are the links to the Public Health Wales website that hosts the English version of the course:
https://phw.nhs.wales/activateyourlife
and the Welsh version:
https://icc.gig.cymru/bywydactif
Information published in ebulletin dated 14.08.20
Cynllun Cyfaill Cymru (Friends in Wales Scheme). Cynllun Cyfaill Cymru is a new phoneline from the voluntary sector in Wales that connects digitally excluded people with Welsh language befriending services during the pandemic. Read more here.
---
Welsh Government -Food Boxes will be stopping on 16 August
"We are letting you know now so that you have time to make other plans to get food and supplies…"