Training & Learning Opportunities for those working in Flintshire's Third Sector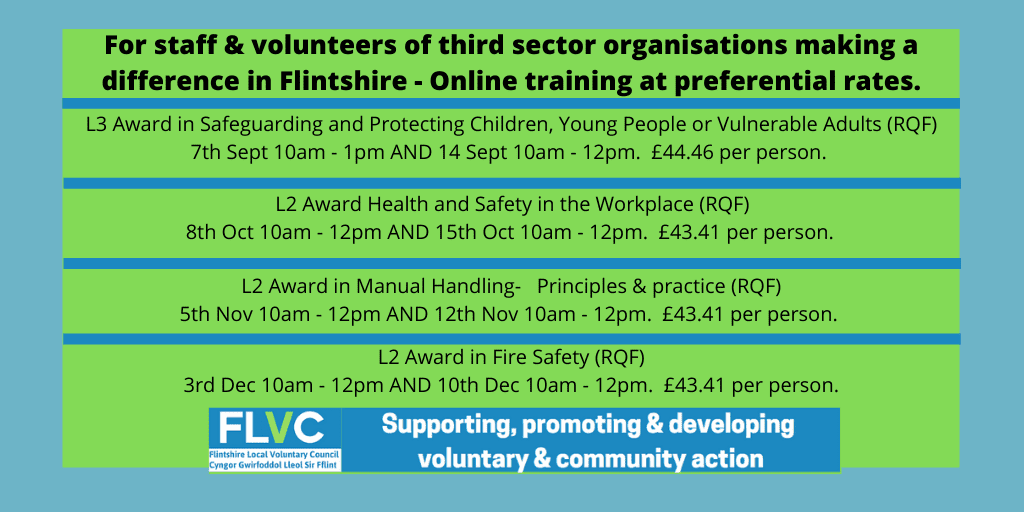 For course information, and booking information here.
 Shared  in bulletin issued 23rd October 2020
Anyone can save a life!  Spend an hour from 12pm on Wednesday 4th November learning essential lifes aving skills.  Book here. 
---
Designated Safeguarding Person (DSP) Training 
Within the revised All Wales Safeguarding Procedures there is a new role of Designated Safeguarding Person (DSP).  The 'Designated Safeguarding person' (DSP) is the identified person within the organisation (outside of Local Authority) who:
 
–   Is available to discuss safeguarding concerns
–   Should be consulted, when possible as to whether to raise a safeguarding concern with the LA
–   Will manage any immediate actions required to ensure the individual at risk is safe from abuse.
 
In order to support those identified as DSP within their organisation, we are offering a one day training session, details included in the attached flyer.
 
 Adult's training on the 3rd December
 
Children's training on the 28th January    
 
To apply please fill in the application form and return to wdt@flintshire.gov.uk 
 Shared  in bulletin issued 16th October 2020
Public Health Network Cymru.  COVID-19 and Behavioural Science .  22 October 2020 (14:00 – 15:00)
Register here.
Using behavioural science to increase impact of interventions aiming to reduce transmission of COVID-19. 
This session will discuss the application of behavioural science to current preventative activity in Wales and, using an example of young people and social distancing, will describe a process which intervention developers, from policy to communications, can use to increase their impact on the Covid-safe behaviours of the public.
The session will also introduce some recently developed tools to use behavioural science in communications interventions to improve adoption and adherence of Covid-safe behaviours. We also hope to learn from participants about how they are using behavioural science in their practice and how we can improve our offer to support those efforts. 
The webinar will be delivered by Jonathan West, Head of Behaviour Change and Public Information, Public Health Wales and will include a Question and Answer segment.
---
Action for Children Digital Guide.  FREE online training for anyone working or volunteering with young people in Wales.
"Mental Health Literacy improves understanding of mental disorders and evidence based treatments, reduces stigma and helps young people get connected to support when they need it."
For booking and enquiries, please email GuideDigital@actionforchildren.org.uk
---
"Free 1 hour workshop so that by the end of it charity leaders can:
"Understand the power of Young Trustees
Have a framework to understand how to approach board diversity.
Take practical next steps."
---
Mencap Cymru: A life more ordinary – stories about friendships relationships and intimacy Tickets, Wed 4 Nov 2020 at 09:30 | Eventbrite
The Our Social Networks project wants to share our learning and give attendees a chance to inform recommendations going forward. Through over forty interviews we have collated themes, things that help and hinder people with a learning disability's ability to develop meaningful friendships and intimate relationships.
---
Here are some @WCVACymru  events which will take place during #TrusteesWeek.  
Shared  in bulletin issued 9th October 2020
From Charity Digital: Don't miss next week's BeMoreDigital Fundraising Day Join Charity Digital next Thursday for a free virtual event in which organisations share the tools and tricks they are using to adapt to the new fundraising environment.
---
GambleAware – Free Gambling Harm training from Citizens Advice Denbighshire for frontline staff and volunteers all across North and Mid Wales.
"This training is created with the aim of providing you and your team with the tools you need to spot signs of problem gambling and possibly get somebody the help they desperately need.Due to restrictions etc, we will be holding these sessions via webchat (zoom, google meet etc). They will last approx. 1h – 1h 30m."
Contact  jacob.kendall@dcab.co.uk
Shared  in bulletin issued 2nd October 2020
WCVA – Online Masterclass course to support Welsh voluntary Heritage organisations to attract diverse board members.
Catalyst Cymru is a WCVA project funded by National Lottery Heritage Fund. We are working in partnership with Getting on Board to deliver an online Masterclass course to support Welsh voluntary Heritage organisations to attract diverse board members.
The Masterclass course provides a deep dive into each step needed to successfully recruit diverse board members.  The course comprises of five one-hour sessions in October/November. Please note places are limited and you will need to be able to commit to all of the dates. The cost for all five sessions is £20. 
For further information and how to book visit WCVA Training pages.
---
Getting on Board – Free practical guide – How to recruit Trustees for your Charity.
Shared  in bulletin issued 25th September 2020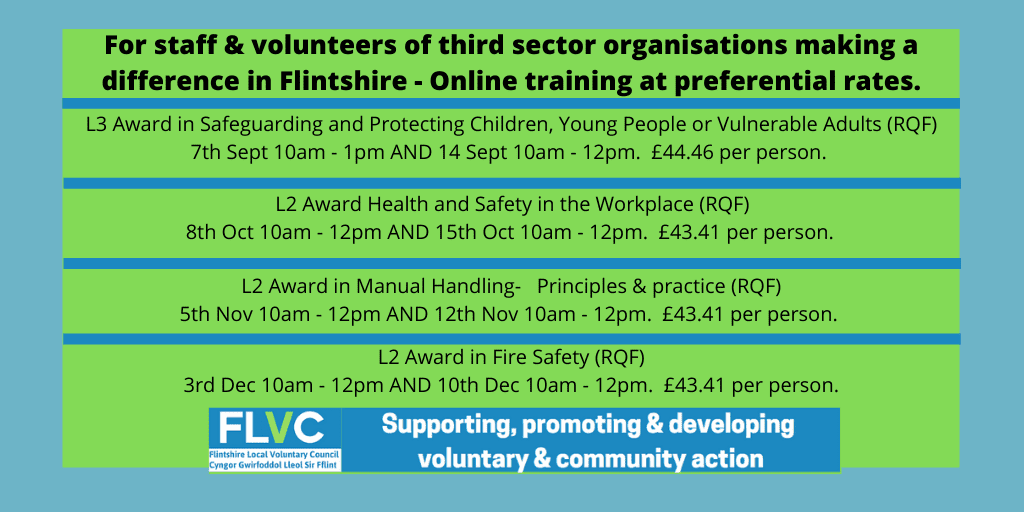 ---
"Community Cohesion Training and Awareness Session
7th October.  Deadlines and benefits of applying for the Settled Status to EU, Swiss and EEA citizens. In partnership with CAB Flintshire and NEW Mind
The deadline for European Citizens to apply for Settled Status is now very close.  If you are supporting community members who may need to apply for Settled Status, you may find it useful to take part in our up and coming Community Cohesion Training and Awareness session.
 
The session will be delivered by Chloe Pears form Flintshire CAB and Tim Fox from NEW Mind, who will provide  an overview of the application process and how they can support individuals to apply, whilst  provide  you with an informal opportunity to share your thoughts and join a discussion on the subject.
If you or a member of your team would like to take part in the session to gain  more confident when supporting and  sign post individuals who may need to apply for EUSS, please complete  and  return the attached booking form.
 
For more information or book a place on this or any other Community Cohesion session, please contact Community Cohesion Officers: Monika Frackowiak OR Dave Roberts with the booking form.
 
If you would like an awareness training delivered in your organisation on a different day, please do not hesitate to email.  Contact details for bookings and/or more info:
Monika.Frackowiak@wrexham.gov.uk OR David.Roberts@wrexham.gov.uk
07990 647 679.
---
Church in Wales and Haven of Light CIC.  A webinar in the lead up to the 'Modern Slavery Day' on October 18th. 'Lighten Our Darkness'. Modern Slavery:Our Response as a Community of Faith'.
Thursday 8th October 2020, 2pm to 3:30pm
Register here.
---
Funding Regulator – Need a refresh on the Code Of Fundraising Practice? "Watch our webinar introducing the fundraising standards. Charities are welcome to use the video as part of their induction and training."
---
Charity Digital Podcasts. 
This charity "… help(s) other charities BeMoreDigital through inspiring content, access to the UK's only discounted and donated technology platform and connection to the best digital talent in the sector."
Podcast titles include "How to become a more digitally diverse organisation",  "Creating a digital culture – a guide to securing stakeholder buy-in" and "5 steps to better impact reporting".
---
WCVA: "Join brand and communications experts Housebrands for this free 45-minute webinar to explore the role corporate culture can play in ensuring that your team is highly motivated.
Are you walking the walk? 30th September from 4pm. Book here.    
---
WCVA: The first in our new  Inspiring Impact events programme will introduce WCVA's 'Seven Simple Questions' for putting you, your organisation, and the people you support at the heart of everything you do. 21 October, 1.00 pm – 3.00 pm. Book here.
Shared  in bulletin issued 18th September 2020
This years' Adult Learners' Week is on the 21st – 27th of September, and there are plenty of events you can take part in online.
---
Pennysmart CIC – Benefits Basics Online Workshop 22 Sep 20
Cost: Free (£10 will be invoiced for non-attendance)
Timing: 90 min awareness raising online workshop
Target Audience: Volunteers and frontline workers supporting vulnerable clients in low income communities.
Learning Outcomes:
To have an awareness of the WB system in England & Wales and the importance of a benefits check
To understand which organisations deal with what benefits, where and how to claim
Identifying the most common benefits according to client circumstances
To understand how and where to signpost or refer clients to the most appropriate free advice service providers.
---
From WCVA: How to help your organisation influence UK Parliament         
UK Parliament has launched a range of online workshops to help Welsh organisations understand how the Houses of Commons and Lords work, influence decisions, get their voices heard and campaign for change.
---
Victim Support Hate Crime Team – Hate Crime awareness sessions to help develop understanding of Hate Crime in Modern Wales.   
Date: 21 September 2020
---
Charity Digital – FREE webinar: A guide to engaging service users while working remotely.
Oct 8 , 1-2pm
---
Betsi Cadwaladr University Health Board North Wales Engagement Team is delivering a Covid Conversations training and awareness session
23rd September at 11AM via Zoom.
Covering:
What have we learnt?
Inequalities
Barriers to engagement & solutions
Developing & strengthening collaboration
Engagement & challenges ahead
---
Carers Trust Wales – "webinar to find out how to get the most from our new education resources
"School staff and people who work with unpaid carers are invited to join our webinar on 6 October 2-3pm."
New education resources can be found here.
---
Stand North Wales CIC – Level 1 and 2 Makaton courses for professionals working across North Wales
"Please find below details of two Level 1 and 2 Makaton courses open to professionals working across North Wales.  The sessions will be held via Zoom and the costs for the course are £180 per person to include manuals and certificates. 
The course is delivered by a bilingual Makaton tutor."
Makaton information flyer
Shared  in bulletin issued 11th September 2020
WCVA – Agile working: the 'new normal'?
As lockdown restrictions ease, many employers are considering implementing agile working practices. Our webinar with Darwin Gray will help you get ready.
23 September 2020, 2 pm – 3 pm
---
WCVA – How to recruit diverse board members – an overview of board recruitment
This webinar will introduce best practice for recruiting board members.
24 September 12.30 pm – 1.30 pm
---
Shelter Cymru Online Training
Universal Credit and Housing Costs.  £120.00 per person
"This course is a must for:
Anyone advising and/or supporting residents to access benefits or  maintain their tenancies.
The welfare benefits landscape has shifted dramatically in the wake of Universal Credit. Claimants and landlords are having to adjust to an entirely new regime of receiving money for living expenses, housing costs or both. It's no wonder this topic is never far from the news!
By placing the client experience front and centre, Shelter Cymru's Universal Credit and Housing Costs course will provide learners with the knowledge and know-how that they need to navigate the complexities of DWP's flagship reform.
Course includes:
Detailed exploration of Universal Credit from claims to payment and beyond
Calculating UC – Understanding the elements that build a UC award
Assessment periods and changes in circumstances
Work allowances and Capital
Alternative payment arrangements – identifying and assisting vulnerable tenants
Sanctions and Conditionality
Transitional payments
Housing costs and different tenures
UC claimants and rent arrears
---
From Catalyst: How to conduct a virtual job interview
"Now we're conducting so much of our work online, job interviews are frequently happening remotely. Our partners at Charity Digital look at how to do it well."
---
Digital Communities Wales. 
"Do you work with or support vulnerable people? Are you concerned about their online safety?
Why not join our free one hour webinar which focuses on keeping safe online and measures you can take to prevent fraud. Book your place here.
---
Online Health and Well-being Course.
9:30am – 4:30pm.  17th Sept 2020. 
This course aims to support Care workers to understand the needs of individuals in their care home from their head to their toes. 
The course is closely linked to units within the new qualifications and has clear outcomes.  Participants will develop learning and understanding in regards to:
Oral health care and mouth care.

Diet, nutrition and hydration.

Foot care.

Pressure area care.

Personal care and continence management.

Roles and responsibilities in terms of the link between inadequate health and well-being and safeguarding.

Roles and responsibilities in terms of clear record keeping. 
Please contact wdt@flintshire.gov.uk to request an application form.
---
Ethnic Youth Support Team (EYST)
"An exciting opportunity to join virtual training on Train the Trainer. This is a free training for anyone and funded by the Welsh Government. This training will empower you to challenge discrimination and racism. Contact: nicky@eyst.org.uk"

Shared  in bulletin issued 4th September 2020
ONLINE: Implementing the Primary Care Model for Wales 
15th September 2020.  Online Conference. THIS EVENT IS CPD CERTIFIED. 
Join Policy Forum for Wales and key stakeholders as we examine the ongoing implementation and impact of the Primary Care Model for Wales – a key element of the Transformation Programme in Wales.  Of course, we expect discussion on the day to reflect the impact of the COVID-19 pandemic on primary care in Wales, on those working in or alongside primary care, and on the communities, individuals and households it serves.
---
ONLINE: Health and Social Care Quality in Wales 
15th October 2020.  Online Conference.  THIS EVENT IS CPD CERTIFIED.
Join Policy Forum for Wales and key stakeholders as we focus on the next steps for raising the quality of health and social care in Wales.  Delegates will discuss issues for implementation of key new legislation and the implications for stakeholders, looking at the future for inspection and regulation, workforce recruitment, governance and transparency of health boards and enhancing the voice of patients.
 
Of course, it will also be an opportunity to examine how the COVID-19 crisis has affected health and social care in Wales, including the latest thinking on the resilience of the health and social care system, the effective of the crisis response and the long-term implications for policy in Wales.   
---
How can local communities be powerful?/ Sut all cymunedau lleol fod yn rymu
Thursday 10th September, 7.30pm.
A free online workshop, hosted by TCC (Trefnu Cymunedol Cymru / Together Creating Communities).
Register for tickets here.
"TCC is a diverse alliance of faith groups, community groups, and schools from across North East Wales. We work together to run effective campaigns, meeting directly with decision makers on the issues which affect our communities.
Our hour-long workshop will include:
How together we build power, using community organising to win the positive changes we need.
Community leaders from TCC's membership sharing their first-hand stories of successfully creating change.
Looking forwards to how we can continue to build powerful and active communities during lockdown and beyond.
If you don't usually receive emails from us, you can sign up to TCC's mailing list here. We'll let you know about future community organising training courses and events.  If you can't attend the event but you'd like to find out more about TCC, please do get in touch."
---
Online Racism Awareness, Hate Crime and Discrimination training 
16th September 2020, 3pm – 4pm
Via Zoom hosted by the Race Equality Network 
Email karen.peters@flvc.org.uk to register your interest and receive further information
---
Digital Communities Wales – "New webinar alert! We're running a free one hour course on Facilitating sessions.
If your organisation is looking to explore online service provision book here."
---
WCVA – As lockdown restrictions ease, many employers are considering implementing agile working practices.
Our webinar with commercial law firm Darwin GrayLLP  will help you get ready.
Wed 23 September. 4.00 pm – 5.00 pm.
Register here.
Shared  in bulletin issued 25th August 2020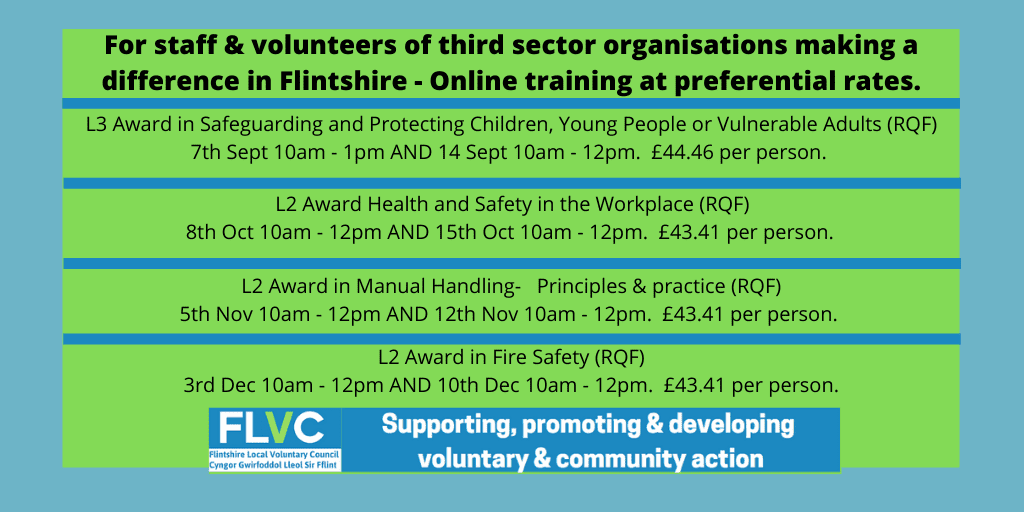 ---
NSPCC training for the DESIGNATED SAFEGUARDING PERSON in WALES (fee payable).
"This advanced safeguarding course runs on the 1 & 2 September (through Zoom) and is aimed at DSP's working in Wales across all sectors including education and the voluntary sector. 
More info on the course can be found at this weblink including how to book a place!
Any queries please don't hesitate to get in touch:  Carl Harris.  Senior Training and Development Consultant / Uwch Ymgynghorydd Hyfforddiant a Datblygiad.  carl.harris@nspcc.org.uk. 01792 341613 / 07824529587
---
Together Creating Communities / Trefnu Cymunedol Cymru.  "You're invited to TCC's online workshop, open to anyone interested in creating change for communities in North East Wales.
How can local communities be powerful? Community organising stories & ideas from TCC. Thursday 10th September, 7.30 – 8.30pm.
---
Groundworks North Wales.  "Looking for an Emergency First Aid Course? Groundwork Training are hosting one on Sept 4th 2020. Visit the website to find out more."
Information shared in e-bulletin published 25.08.20
---
WCVA Learning Survey and Learning Opportunities Bulletin
Click here to access the WCVA Learning Opportunities bulletin and Learning Survey.
---
New online courses from Adult Learning Wales

Wednesday 9:30am – 12:00pm
09.09.2020 – 02.12.2020 

Monday – 9:30am – 12:00pm
07.09.2020 – 30.11.2020 

Monday – 12:30pm – 3:00pm
07.09.2020 – 30.11.2020 

Tuesday – 1:00pm – 3:30pm
08.09.2020 – 01.12.2020

Dydd Iau | Thursday — 9:30-11:30 01.10.2020 – 22.10.2020

Monday 9:00 -12:00 – 28.09.20 – 30.11.20

Monday 12:30 – 14:30 – 28.09.20 – 09.11.20
---
Steps towards user centered design – free online #DesignHop workshop can help fine tune existing user research processes
---
Disability Wales has written a great guide on how to make your information accessible. One of their tips is to provide #EasyRead information.
---
Well-being Champion Training from RCS 
Who will champion well- being in your workplace?  Our unique remote-learning Well-being Champion programme is now open!  Click here to register your interest
---
Safeguarding Adults & Children Refresher  – 27/08/2020 – 2.30pm–4.30pm (30 places available)
This 90 minute Zoom session refreshes your knowledge in relation to:-
• Knowing your own role in relation to safeguarding adults, children and young people from harm, abuse and neglect.
• Understanding how individuals are protected from harm, abuse and neglect • How to recognise different types of harm, abuse and neglect.
• Be aware of changes to safeguarding as a result of the Social Services and Well-being (Wales) Act 2014.
 
Non FCC staff can request an application form from wdt@flintshire.gov.uk
---
Children in Wales open training courses

---
Free online dementia course with ucl  & FutureLearn.   The Many Faces of Dementia: Gain a unique insight into dementia through the stories, symptoms and science behind four less common diagnoses.
---