*To accommodate restrictions associated with COVID-19, we're delivering the level one qualification via Zoom and Moodle.  
Volunteering can be as beneficial for volunteers as it is for the people and causes that volunteers' support. 
Our supported volunteering programmes bring participants closer to the opportunity that's right for them, combining work towards a level one qualification, with volunteer taster sessions in a range of settings.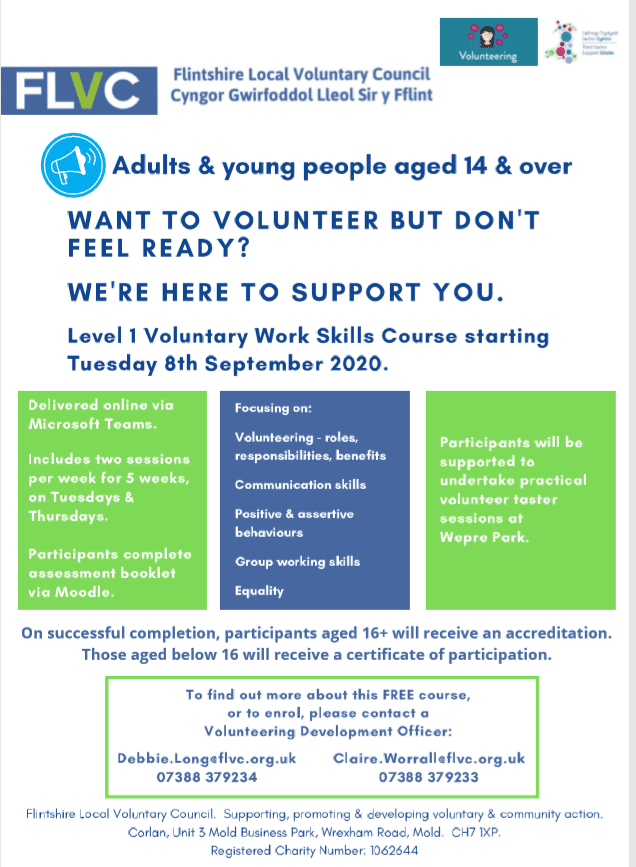 Our programme is free to people:
Aged 16 to 25
With autism and/or learning difficulties
Facing Mental Health Challenges
Who would like to volunteer but don't feel ready
Apply to join us in September 2020, or refer an individual to us by completing this form.
The level one qualification in Volunteer Work Skills covers:  
Volunteering – roles, responsibilities, benefits
Communication skills
Positive and assertive behaviours
Group working skills
Equality
For more information, to enroll, or to make a programme referral, please contact a Volunteer Development Officer:
Debbie Long

Email: debbie.long@flvc.org.uk

Tel: 01352 744017

Claire Worrall

Email: Claire.worrall@flvc.org.uk

Tel: 01352 744019
Online programme flyers:
Young Peoples' Programme, for those aged 16 to 25
Programme for people with autism/learning difficulties
Programme for people facing mental health challenges
Programme for those that want to volunteer, but don't feel ready