Volunteering – Opportunities to make a difference
Find our COVID-19 OPPORTUNITIES TO HELP collection
here
. 
Information shared in ebulletin dated 5th February 2021. 
Information shared in ebulletin dated 29th January 2021. 
CLICK HERE FOR MORE opportunities/information shared in this week's e-bulletin
Further appeal for volunteers to support Parkfields Community Fridge
Information shared in ebulletin dated 22nd January 2021. 
CLICK HERE FOR MORE opportunities shared in this week's e-bulletin
From WCVA:
"If you'd like to volunteer or offer support during alert level 4, it's important that you keep yourself and others safe. We've updated our guidance on volunteering during the pandemic."
---
Information shared in ebulletin dated 15th January 2021. 

Click here to see opportunities that ONLY appeared in the e-bulletin
Parkfields Community Centre is developing a Food Hub, a major part of which is the Parkfields Community Fridge which will make use of surplus food from supermarkets and other sources and distribute it free amongst our local community.
Join us at this exciting time to help us set up the fridge as we open to the public. 
We are looking for any help you can offer – do you have a couple of hours to check in food, or perhaps staff the fridge during its open mornings?  Perhaps you might be willing to collect food from a local store. 
Volunteer role descriptor
Volunteer Registration Form
---
Angen Hyrwyddwyr Lleol Mae Cadwyn Clwyd (Asiantaeth Datblygu Gwledig) 
Mae Cadwyn Clwyd (Asiantaeth Datblygu Gwledig) yn chwilio am unigolion i ymuno  â Grwpiau Gweithredu Lleol (GGLl)  yng Ngogledd Ddwyrain Cymru (Sir Ddinbych, Sir y Fflint, a Wrecsam). Cyfrifoldeb y GGLl yw goruchwylio a dyrannu dosbarthiad o dros £7.7 miliwn o arian LEADER mewn ardaloedd gwledig.  Cronfa yw LEADER i archwilio dulliau newydd arloesol a thechnolegau arbrofol i fynd i'r afal â thlodi, creu swyddi a hybu datblygiad economaidd cynaliadwy.  Mae rhaglen LEADER yn canolbwyntio ar 5 thema:

1.      Ychwanegu gwerth at hunaniaeth leol ac adnoddau naturiol a diwylliannol
2.      Hwyluso datblygiad cyn fasnachol, partneriaethau busnes a chadwyni cyflenwi byr
3.      Archwilio ffyrdd newydd o ddarparu gwasanaethau lleol anstatudol
4.      Ynni adnewyddadwy ar lefel Gymunedol
5.      Manteisio ar Dechnoleg Ddigidol

Cefnogir cynlluniau peilot, astudiaethau dichonoldeb, prosiectau hyfforddi a mentora sy'n gyd fynd â'r themâu hyn a gweithio tuag at amcanion y Strategaethau Datblygu Lleol. mae LEADER yn rhan o gymunedau Gwledig Llywodraeth Cymru – Rhaglen Datblygu Gwledig 2014 – 2020, a ariennir gan Lywodraeth Cymru a Chronfa Amaethyddol Ewrop ar gyfer Datblygu Gwledig.

Bydd yn ofynnol i aelodau'r GGLl I fynychu cyfarfodydd chwarterol i drafod ceisiadau am brosiectau a dyrannu cyllid i brosiectau. Bydd gan yr ymgeisydd delfrydol wybodaeth am faterion gwledig a chorff o brofiad o weithio yn y gymuned, y sector cyhoeddus neu'r sector breifat o fewn yr ardal wledig.  Swydd ddi-dâl, wirfoddol  yw hon ac nid oes risgiau ariannol yn cronni i aelodau'r GGLl yn bersonol.

Os hoffech wybod mwy am ddod yn aelod o un o'r GGLl, cysylltwch â Cadwyn Clwyd am ragor o wybodaeth ar 01490 340500 neu adam.bishop@cadwynclwyd.co.uk 

Local Champions Wanted Cadwyn Clwyd (Rural Development Agency)
Cadwyn Clwyd (Rural Development Agency) is looking for individuals to join Local Action Groups in North East Wales (Denbighshire, Flintshire and Wrexham).  The Local Action Group has the responsibility of overseeing and guiding the distribution of over £7.7 million of LEADER funding in rural areas.  LEADER is a fund to explore innovative new approaches and experimental technologies to tackle poverty, create jobs and drive sustainable economic development.  The LEADER programme focuses on 5 themes:

1.     Adding value to local identity and natural and cultural resources
2.     Facilitating pre-commercial development, business partnerships and short supply chains
3.     Exploring new ways of providing non-statutory local services
4.     Renewable energy at Community level
5.     Exploitation of digital technology

Pilot schemes, feasibility studies, training and mentorship projects that align to these themes and work towards the objectives of Local Development Strategies will be supported.  LEADER is part of the Welsh Government Rural Communities – Rural Development Programme 2014 – 2020, which is financed by the Welsh Government and European Agricultural Fund for Rural Development (EAFRD). 

Local Action Group members will be required to attend quarterly meetings to discuss project applications and allocate funding to projects.  The ideal candidate will have knowledge of rural issues and a body of experience gained from working in the community, public or private sector within the rural area.  This is an unpaid, voluntary post and no financial risks accrue to Local Action Group members personally.

If you are interested in learning more about becoming a member of one of the Local Action Group, please contact Cadwyn Clwyd for more information on 01490 340500 or adam.bishop@cadwynclwyd.co.uk
Information shared in ebulletin dated 8th January 2021. 
Click here to see opportunities that ONLY appeared in the e-bulletin
You can still do voluntary work under Welsh Government guidelines – but must do so from home if practicable.


Find out more about alert level 4 restrictions in the Welsh Government FAQs. 
Information shared in ebulletin dated 18th December 2020. 
Click here to see opportunities that ONLY appeared in the e-bulletin
Settled is looking for volunteers based in Wales to support the rise in requests for help from people who need support with EU Settlement Scheme applications as we approach the deadline.
Settled is an independent charity providing free and trustworthy information, advice and support in different languages to EU citizens in the UK.
Settled was set up in 2019 by concerned EU citizens. It has a small team of staff and 100 volunteers throughout the UK. Settled is registered to provide immigration advice. Settled is here to help ensure that EU citizens gain Settled Status and to respond to the difficulties that they face – now and in the future. Its services are accessible throughout the UK, and we are committed to reaching those who most need help.
At the moment our services are delivered remotely via phone, email and social media. Training towards OISC Level 1 Accreditation will be provided. If you are passionate about citizens rights and want to make a difference in your community, please get in touch with Eva at eva.plajerova@settled.org.uk.
Information shared in ebulletin dated 4th December 2020. 
Click here to see opportunities that ONLY appeared in the e-bulletin
North East Wales Mind Recruiting Volunteers at Flint Wellbeing Hub

We need a team of volunteers in our new Flint Wellbeing Hub to give support and a listening ear to help people get their lives back. Email: Claire.Murray@newmind.org.uk.
---
Mudiad Meithrin – join a Committee of Volunteers to run a Cylch in Buckley.

"Members of the Voluntary Management Committee are working together to undertake running a Nursery in the community, to ensure that the area's children are immersed in Welsh whilst in the Cylch.
We welcome and encourage people from all backgrounds to be part of the cylch committee.
Committee members are not expected to be experts. Every Cylch Meithrin has a Support Officer who can provide advice and help them with the Cylch's smoothly run.
Are you interested, or know of someone who wants to volunteer and help the Buckley Circle? If you want a chat, contact Gaenor Richards
Members of the Voluntary Management Committee are working together to undertake running a Nursery in the community, to ensure that the area's children are immersed in Welsh whilst in the Cylch.
We welcome and encourage people from all backgrounds to be part of the cylch committee.
Committee members are not expected to be experts. Every Cylch Meithrin has a Support Officer who can provide advice and help them with the Cylch's smoothly run.
Are you interested, or know of someone who wants to volunteer and help the Buckley Circle? If you want a chat, contact Gaenor Richards (Flintshire Support Officer):
07772 991 742 / 
gaenor.richards@meithrin.cymru
."
---
Help fight social isolation by becoming Call Companion with Re-Engage
This service is specifically designed for people aged over 75 whom live alone, though exceptions to these criteria are considered. 
 
If you're eager to connect with others, consider becoming a volunteers and volunteer coordinators.  No age limit imposed.
 
"You can find further information here.  You'll find answers to frequently asked questions on our website or give us a call on 0800 716 543 (calls are free)."
Information shared in ebulletin dated 27th November 2020. 
Click here to see opportunities that ONLY appeared in the e-bulletin
Groundworks North Wales – volunteering opportunities back following Firebreak
In Flintshire:

Make environmental improvements & transform neglected green spaces with the "We Care" project in Holywell & Greenfield.

"Wild Ground" invites you to get involved in practical conservation in Buckley & Rhydymwyn.

Support the collection, storage, restoration, sale and delivery of furniture at "Refurbs" in Flint.
---
Share the Load telephone volunteers wanted 
"The DPJ Foundation is the leading mental health charity working with farmers and those in the agricultural community in Wales.  As a Share the Load volunteer you will answer calls and messages from people who really need someone to talk to. They might be feeling at their lowest ebb or they may be lonely and have no-one else to turn to. 
 
We are looking for people who are able to listen, without judging, and who are able to offer support when someone most needs it." 
 
If you are interested and would like to find out more, please click here.  
Information shared in ebulletin dated 20th November 2020. 
Click here to see opportunities that ONLY appeared in the e-bulletin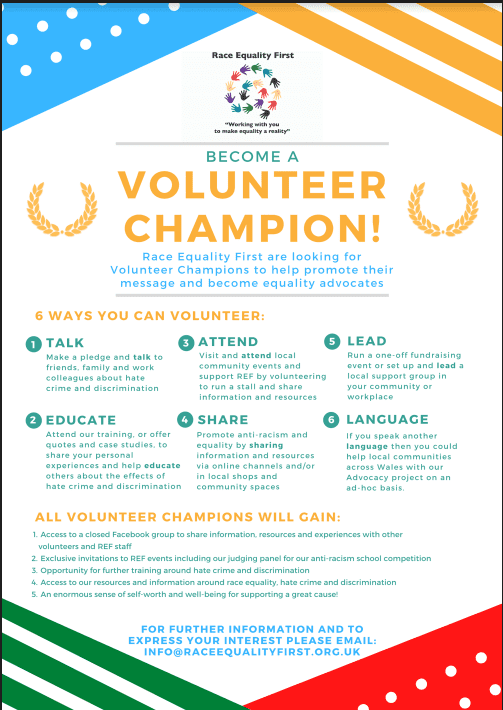 ---
The National Lottery, ITV and STV have teamed up on a new campaign encouraging viewers to miss an episode of their fave TV show to lend a helping hand by volunteering in their community.
Information shared in ebulletin dated 13th November 2020. 
Click here to see opportunities that ONLY appeared in the e-bulletin
Trustee's Wanted: Deeside Community Trust
The Trust

is developing plans for a Community Hub based on the site of the former John Summers school in Queensferry. They're recruiting volunteers for the role to Trustee.

To apply, please email your CV to info@deesidecommunitytrust.co.uk

What do trustees do? See:

"5-minute guides" will support charity trustees to meet duties, from the Charity Commission
---
Giddo's Gift seek Charity Ambassadors
"NEW PART TIME VOLUNTEERING OPPORTUNITIES AVAILABLE 
Are you looking to get more involved with your local community? Do you enjoy working in a team?
Are you passionate about helping others?
Do you need to develop your own skills for the future?
If you answered yes to the questions then we would love to hear from you!
Giddo's Gift is a charity established in memory of Jordan Giddins who died at 18 from Cancer. Over the last 3 years his charity has helped hundreds of young people aged 13-24yrs battling Cancer. The charity gives gifts, such as phones laptops etc to young people as they battle cancer. These gifts hopefully bring a smile to their face and allow them to keep in contact with family and friends as they go through grueling treatments.
Volunteer Ambassadors are so important. They help raise awareness by attending events and they also fund raise. In return we provided support and development – please see job description for full details.
If you are interested in joining the team please submit a letter of interest no longer than one piece of A4. Answering three questions:
Why you want to become an Ambassador for Giddo's Gift?
What will you personally bring to the charity?
What skills would you like us to help you develop whilst in the role?
If you would like to find out more contact Bethany Giddins on 07540285095 or via giddosgift@gmail.com."
Information shared in ebulletin dated 6th November 2020. 
Click here to see opportunities that ONLY appeared in the e-bulletin
Volunteering opportunities at Bryn Gwalia Community Centre
Community Gardener
Digital Developer
Information shared in ebulletin dated 30th October 2020
A SEARCH has been launched in Wrexham and Flintshire to find volunteers to act as custody watchdogs to 'police the police'.
"North Wales Police and Crime Commissioner Arfon Jones is seeking up to nine independent custody visitors to help him.
Mr Jones wants to appoint people to join the existing team responsible for visiting custody facilities in St Asaph, Caernarfon and Llay, near Wrexham. (The role)… will be to safeguard the welfare of people detained by the police and ensure their rights are upheld.
Successful candidates will be expected to undertake at least 10 unannounced visits a year along with and attending training courses, meetings and conferences.
The closing date for applications is Friday, December 11.  Read more.
Eligible individuals who are interested in applying to become a Custody Visitor in North Wales can contact Meinir Jones at the Commissioner's office, either by ringing 01492 805486 or via email at: opcc@nthwales.pnn.police.uk
---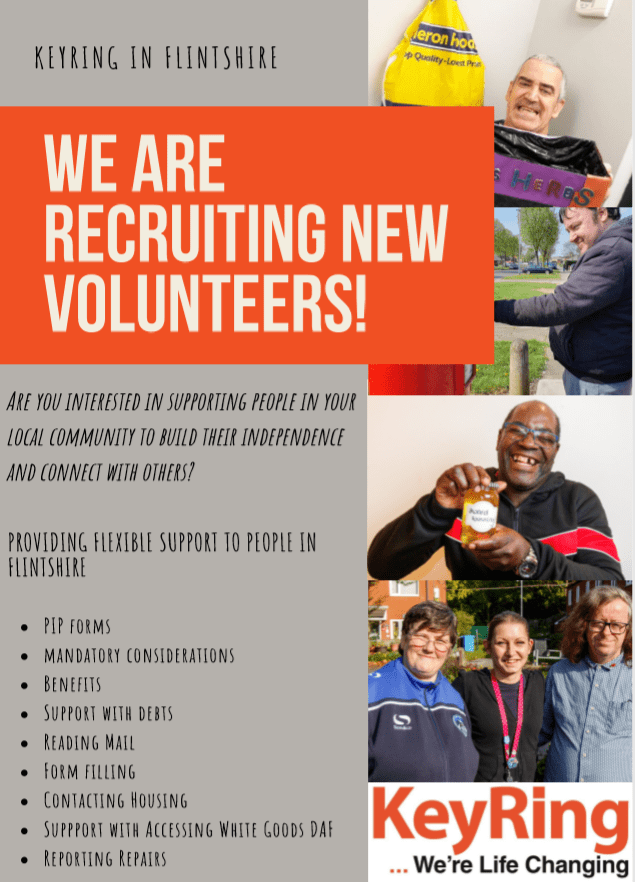 Our Community Volunteers provide flexible support with things like budgeting, skill sharing and connecting with the community.
This is a great opportunity if you:
Are a car driver
Have good people skills
Enjoy bringing people together
Like empowering others
Want to know more? Visit our website at keyring.org
For an informal chat, please contact Pauline on 079 3150 3117 or email Pauline.Jarvis@keyring.org
Information shared in ebulletin dated 23rd October 2020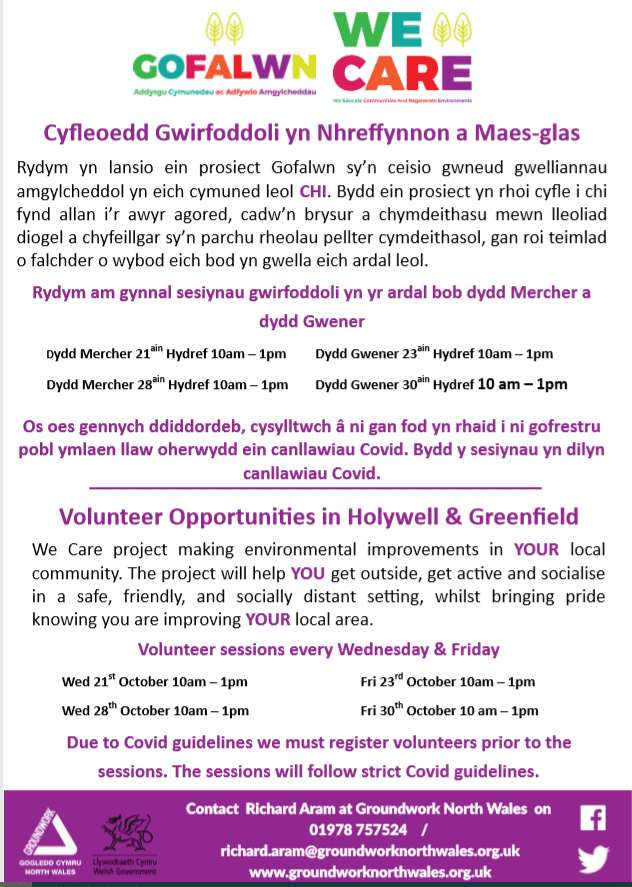 ---
Mudiad Meithrin Arbenigwyr y blynyddoedd cynnar /Welsh early years specialists
Mae ganddom 2 Gylch o fewn Sir y Fflint  – Treffynnon, a Bwcle (ddiwedd y flwyddyn) sydd yn chwilio am aelodau i'w pwyllgorau / ymddiriedolwyr.
Mae aelodau'r Pwyllgor Rheoli Gwirfoddol yn gweithio gyda'i gilydd i ymgymryd â rhedeg Cylch Meithrin yn y gymuned leol. Y pwyllgor yw cyflogwr staff y Cylch Meithrin a'r pwyllgor sydd â chyfrifoldeb cyfreithlon dros y Cylch Meithrin
Er bod disgwyl i'r Cylch Meithrin weithredu trwy gyfrwng y Gymraeg, nid oes disgwyl i bob aelod o'r pwyllgor fedru siarad Cymraeg. Rydym yn croesawu ac yn annog pobl o bob cefndir i fod yn rhan o bwyllgor y cylch.
Nid oes disgwyl i aelodau'r Pwyllgor fod yn arbenigwyr, ac mae staff Mudiad Meithrin yma i'ch helpu. Mae gan bob pwyllgor Cylch Meithrin Swyddog Cefnogi (sef fi) sy'n gallu darparu cyngor ar amrediad o faterion rheoli. 
Tybed a oes ganddoch restr o wirfoddolwyr a fyddai yn fodlon ymuno a'r timoedd gweithgar sydd yn y Cylchoedd yn barod I fod yn rhan
We have 2 settings in Flintshire – Holywell and Buckley (at the end of the year) , seeking trustees / committee members.
Members of the Voluntary Management Committee work together to undertake the running of a Cylch Meithrin in the local community. The committee is the employer of staff at the Cylch Meithrin and the committee has legal responsibility for the Cylch Meithrin.
Although the Cylch Meithrin is expected to operate through the medium of Welsh, not all members of the committee are expected to be able to speak Welsh. We welcome and encourage people from all backgrounds to be part of the cylch committee.
Committee members are not expected to be experts, and Mudiad Meithrin staff are here to help. Each Cylch Meithrin committee has a Support Officer (me) who can provide advice on a range of management issues. I was wondering if you have any information regarding volunteers who are willing to join these committees and help move these settings forward. 
Contact: Gaenor Richards Swyddog Cefnogi  / Support Officer.  Talaith y Gogledd Ddwyrain a'r Canolbarth / North East and Central Province. 07792 946986.
Information shared in ebulletin dated 16th October 2020
Volunteer Mentors needed in Wales Probation Services
The Wales Community Rehabilitation Company provide a range of probation services for adult service users on community orders or licences. Our aim is "to change lives and inspire public confidence by cutting crime".
Do you believe people make mistakes and everybody deserves a chance to change their lives for the better?
If you are:
Empathetic – able to understand their perspective;
Assertive – able to help them make decisions and find routes of assistance;
Reliable – to be there to help the Service User when agreed/required
If you think you have these abilities we need your time to help and support our Service Users to make positive changes to their lives, as well as your local communities. It is a challenging but rewarding experience and ultimately reduces the potential to reoffending.
You will spend time getting to know the service users, taking an interest in their lives, supporting them emotionally and practically thorough advocacy work and providing some consistency at a difficult time. 
If you are thinking of starting a career in criminal justice, substance misuse, debt, advocacy and counselling, this opportunity gives you the ability to gain new skills and an invaluable experience.
Or you may like to use your own personal experiences to help support others, or would simply like to give back the community whilst still learning new skills
Formal training is essential to enable you to provide the highest quality of mentoring. A full 2 days training is essential with additional ongoing training throughout your volunteering career
The volunteer unit provides supervision to our volunteers and reasonable out of pocket expenses, including travel will be reimbursed
We require a commitment of two to three hours per week. The minimum age of applicants is 18 years old with any upper age limit dependant on the physical and mental ability to undertake the role.  We consider applicants with criminal records as we believe everyone can bring their own skills and life experiences to the role.
We require no formal qualifications, just an open mind and a desire to help others,
If this is sounds like an opportunity for you, please contact the Wales CRC Volunteer Unit for further information by:
Email: volunteers@walescrc.probationservices.co.ukTelephone:  01633 247300
Information shared in ebulletin dated 9th October 2020
LocalGiving: "Become a digital volunteer for a grassroots charity. Use your skills to help them fight the impact of Covid-19."
---
North East Wales Mind
Recruiting Volunteers at Flint Wellbeing Hub. We need a team of volunteers in our new Flint Wellbeing Hub to give support and a listening ear to help people get their lives back. 
Call: 07799 783977 
Email: jamie.doyle@newmind.org.uk
---
"Helping others participate and engage (HOPE).  Become a Volunteer Advocate and help others.
HOPE is recruiting and training community based volunteers all over Wales to provide independent advocacy support to local older people and carers so they can help shape the key decisions affecting their lives and avoid getting into a crisis situation.
An exciting new project needs your help to support older people (50+) and carers in your community.
The HOPE project is a partnership project between Age Cymru, Age Cymru local partners and Age Connects Wales partners across the whole of Wales.
HOPE will enable older people and carers to engage with professionals, participate in their communities, understand their rights as an older person, access information to make informed choices and, at the end of the day, have their voices heard.
HOPE will make a huge difference to the lives of many older people who currently don't know how to deal with their concerns or don't have the confidence to speak up about what they really need.  This project will help shine a light on their needs and aspirations so they can live a more fulfilling and dignified later life.
HOPE is recruiting and training community based volunteers all over Wales to provide independent advocacy support to local older people and carers so they can help shape the key decisions affecting their lives and avoid getting into a crisis situation.
Volunteers will be providing support over the phone or via video call, where available, due to the current Covid-19 situation.  Age Cymru wants to ensure the safety of all its staff and volunteers and is following Welsh Government and Public Health Wales Guidance.
To find out more about HOPE and how you can be trained to become a Volunteer Advocate and support people in your community, email: Nick.hughes@agecymru.org.uk
Or visit our website: www.agecymru.org.uk/advocacy"
Information shared in ebulletin dated 2nd October 2020
FNF Both Parents Matter Cymru.  Outbound callers required to complete detailed information packs with our Service Users to help us, help them, move forwards.
Join the team supporting children to maintain a relationship with both parents and extended family.  You can take part in this opportunity from anywhere.
This role involves making 'phone calls to new or existing service users. Our service users, who are mostly men, are generally in a distressed state, feeling isolated, confused and fearful. Accurate communication with them may be challenging, but is also the crucial part of this role.
The focus of the call will usually be to facilitate full completion of the charity's standard Service User Pack for new service users. This involves, (i) basic contact details, (ii) a standard set of questions relating to the sort of cases the charity deals with, (iii) ascertaining the service user's problem and how we can help, (iv) completion of a domestic abuse Risk Indicator Checklist, and, (v) completion of standard psychology questionnaires to measure mental well-being and loneliness. Training specific to this activity will be provided. Prior knowledge of these specialist areas is not essential.
Full induction, mentoring and support. Mobile phone provided for business purposes.
Essential: Ability to empathise with service users (mostly men) who may be emotionally vulnerable. Ability to remain focused on completing the required task (Service User Pack completion) whilst being patient and allowing the caller's "story" to emerge accurately.
Desirable, not essential: Experience of working on a helpline. Experience working with victims of domestic abuse.  Knowledge of the operation of the family court in private law, especially as regards child arrangement issues.
---
Hope House Ty Gobaith Children's Hospices – Volunteer Clinical Trustee Opportunity
"We have a fantastic opportunity for a Volunteer Clinical Trustee to join our Board."
Opportunity details
Trustee Recruitment Brochure
---
Tenovus Cancer Care – Volunteers needed in our Buckley, Flintshire shop.  15 Central Precinct, CH72EF.
As a Retail Assistant you'll gain valuable experience working in the retail industry. Tenovus Cancer Care can help you expand your skills and give you experience to use on your CV. Gaining know-how really can count in your search for employment, and help give back to your local community.
Our local shops are crucial to us raising vital funds. We'd love you to volunteer your time and commitment to help us make a difference. You'll be the friendly face that puts the shop together and looks after our customers.
Roles and responsibilities will involve:
Speaking with customers, making them welcome and answering questions
Serving customers at the till
Accepting donations from the public
Putting goods on display in the shop
Maintaining high levels of shop standards, presentation and cleanliness
Generating add-on sales and Gift Aid conversion through high levels of customer service
Completing Gift Aid shop paperwork
Supporting the Shop Manager in carrying out shop security procedures
Promoting awareness of the charity and the services that we provide
Assisting the Shop Manager with activities such as stock take and general clerical duties such as filing and sorting the post
However you are not limited to these roles. You're encouraged to get involved in different departments of the shop.
How much time do I need to give?
We know time is precious and we're grateful for any time you give. Ideally we look for around 4 hours a week. However we're very flexible and can work around your needs. Even if this is just an hour of your time. Let us know what you can do in the application form.
What benefits can I expect?
The satisfaction of knowing you're making a vital difference to the work of Tenovus Cancer Care, and in particular the people who access our unique services The opportunity to be creative and bring new ideas to the shop whilst developing your fundraising and sales skills The opportunity to develop new and existing skills Access to all internal vacancies Access to training The enjoyment of meeting new people and being part of our Retail Team The chance to gain experience of helping Wales' leading cancer charity. Expenses will be reimbursed in line with organisational policy
What skills do I need?
Excellent customer service skills.  Excellent communication skills.  Organised and efficient Basic numeracy skills.  It'd be great if you have some knowledge of fashion, labels and trends.  A keen eye for detail and good level of accuracy.  Able to work on your own initiative and as part of a team. Many of the standard tasks within the shop involve standing or sitting, handling bags and donations from the public and there may be stairs to climb depending on which shop you are based in. If you have any concerns about this, please speak with the Shop Manager when expressing your interest in volunteering.
Information shared in ebulletin dated 25th September 2020
Cruse Bereavement Care's North Wales Service is recruiting volunteers
MAKE A DIFFERNECE IN SOMEONES LIFE
No formal qualifications or specific experience needed.
Volunteers who are passionate and committed.
Volunteers need good communication and interpersonal skills, listening skills, empathy and awareness of client's feelings.
Awareness of the need for confidentiality, an openness to learn about others and one's self, and nonjudgmental attitude.
Able to offer 2 to 3 hours per week to deliver one to one support and time for monthly supervision and attendance at workshops throughout the year.
To be able to sit alongside bereaved people and listen to their stories and help them through some very difficult time.
For more information, or to apply, please email Barbara Roberts: barbarar123@aol.com
---
Flintshire Credit Union Holywell are looking for a volunteer accountant to assist the Treasurer.
The only office hours at the moment are Mon Tues Thurs and Friday morning 9 to 12.30.
Knowledge of the Abacus worldwide Computer system would be an advantage.
Please contact either Lisbeth or David Stanley Chairman:
Email  info@flintshire-creditunion.co.uk
Telephone 01352 715555.
---
Volunteering Wales. "What can we do to create volunteering that is open to all young people? We are inviting young people (16-25) across Wales to come and tell us at our digital listening event on 6th October. Find out more."
---
Empowering Parents, Empowering Communities – local Buckley team recruiting Parent Group Leaders.
Empowering Parents, Empowering Communities (EPEC) is a successful, popular, unique parenting approach. EPEC is for local parents, led by local parents. As an EPEC parent group leader, you will:
Receive an amazing free training and support from our local Buckley EPEC team.
Learn to lead practical, caring groups for local primary school parents.
Share tried and tested methods that give children the best start in life.
Join a group of like-minded parents to make a difference to your local Buckley community.
Develop your skills and confidence.
Gain experience that will help you fulfill your ambitions.
For more information, join the virtual coffee chat between 10am to 1pm on Wednesday 30th September. 
To register, contact Emma Blacklock 07584 533111 / Emma.blacklock@flintshire.gov.uk
---
Womens Equality Network Wales (WEN) – Recruiting two new trustees
"We are looking for two new trustees to join our dynamic and supportive board. Following our annual review of the current board of trustees we have identified particular skills gaps in Legal, Commercial and Fundraising. We are also South Wales-centric and would like to have trustees from elsewhere in Wales. We would particularly welcome Black, Asian, and minority ethnic (BAME) and disabled applicants as we are committed to a truly intersectional approach.
What we are looking for
Our Diverse 5050 coalition campaign, our flagship Mentoring project, our WEN Cafes, our diverse membership or our ability to influence and challenge Welsh Government will all provoke your interest and inspire you to get involved in driving our small but influential organisation.
You will be a WEN Wales member, have a strong network, a strong commitment to our values and our vision of a Wales free from gender discrimination, and you will be able to offer your energy, time and strategic thinking.
Board meetings are once per quarter and we have an annual strategy day. Currently board meetings take place online and there will always be dial in facilities if we return to physical meetings.
Apply here.d 18th September 2020Information shared in ebulletin dated 18th September 2020
Information shared in ebulletin dated 18th September 2020
Learning Disability Wales – looking for a Chair of our Board of Trustees
"We want Wales to be the best Country for people with a learning disability to live, learn and work' and we are looking for a Chair of our Board of Trustees to help us achieve this.
You will provide inclusive leadership to the Board and support the Chief Executive Officer in developing the organisation.
The term of office is initially for 2 years, there will be a max of 2 terms, the second term being dependent on re-election.  Initially you will work alongside our current chair, formally taking over once your appointment is approved by our members at our Annual General meeting in December 2020.
The role is not remunerated but out of pocket expenses are reimbursed.
For further information and how to apply please see our website."
---
Mencap – Charity Shop Retail Assistant Volunteers needed (Wednesday, Friday, and Saturday) – Buckley
"Having closed due to the coronavirus pandemic, we have now reopen our store in Buckley and are looking for a team of volunteers to help run the store on Wednesdays, Fridays and Saturdays. You can expect to do a number of different things, including serving customers on the till, taking donations, welcoming customers to the store and sorting/pricing stock.
The store has been fitted with protective screens at the till and we have PPE such as gloves, masks and aprons available for all volunteers. We also have access to sanitising gel for customers and volunteers and plenty of social distancing guidelines in store.
If you are friendly and enjoy being with different types of people then this would be a great volunteer role for you. We"d love to welcome you to the team, where you will be helping us to fulfill our vision of creating a world where people with a learning disability are valued equally, listened to and included.
What you need to know:
Volunteer weekly for a few hours or a whole day (we're open 7 days a week)
Travel expenses are paid back to you (up to £7.50 per day)
We will train you and support you every step of the way."
---
Could you volunteer to support someone who needs help with getting employment?
The Change Grow Live project 'Achieving Change through Employment' (ACE) provides help to people from BAME communities to job search, write CV's, complete job applications, practice interviews skills and overcome obstacles to access training & short courses.
To find out more about volunteering for the ACE project contact: Deborah Morris, Volunteer Coordinator on Tel: 07780 082355 or email Deborah.Morris@cgl.org.uk  (all volunteer training is provided via zoom, so no previous or specific experience is required).
---
Trustee positions at Welsh Border Community Transport 
"Welsh Border Community Transport has been in operation as a charity since 1991. We are seeking 1-2 local people who would be willing to join our Management Committee as a Trustee. The role is voluntary and entails the attendance of 4/5 meetings per year including an AGM. If an individual has specific skills, they may be asked to advise on related aspects of the Charities work. The time asked of you would be no more than 3 hours every 3 months.
 
The role of Welsh Border Community Transport is to provide community transport facilities in the County of Flintshire and the surrounding areas for the use of elderly and or disabled residents, charitable organisations and other community groups carrying out charitable purposes. We operate specialist vehicles for service users who have need of such facilities because of the nature of their age, infirmity and or disability and or living in isolated areas where there are no adequate public transport facilities.
Our overarching aim is to provide an outstanding and valued service based on need and desire of our registered service users supported by a committed team of drivers and administration staff and overseen by our board.
 
Like all organisations Covid-19 has had a major impact on us and we are looking at new ways of working to support the community so this is an opportunity to influence local community transport at a time of unprecedented change."
Please call Ian McDermott on 07901553921 or 01244 544474 for more information.
---
Could you make a difference by supporting victims of sexual violence across North Wales?  RASASC (Rape and Sexual Abuse Support Centre North Wales) are recruiting for 1-2 new voluntary positions to join the current Board of Trustees. 
"You may be an experienced trustee or wanting to take your first step to board level.  If so, you can find further information below."
Trustee Pack English
Trustee Pack Welsh
Trustee Application Form
---
Stepping Stones North Wales – We are looking for people who have a range of skills and most importantly some spare time to help us.
"Stepping Stones is a registered charity providing therapeutic services across North Wales to adults who have been sexually abused as children."
Read the inspirational story of Megan who we supported with our services to help get her life back on track.
Read for more info and to get in touch.
Information shared in ebulletin dated 11.09.20
Victim Support – North Wales Service Delivery Volunteer
| | |
| --- | --- |
| Hours per week: | 3+ |
| Schedule:  | Flexible – Home Based |
What will I be doing?
Contacting and meeting victims, either over the phone, at the victim's home or another mutually agreed location and clearly explaining the role of Victim Support and empowering victims to overcome the emotional, psychological and practical effects of crime.

Helping people explore how their experience of crime has affected their lives and identifying ways to enable them to recover from the experience by helping them to identify their individual needs and helping them to choose options they feel are right for them.
Identifying situations where we cannot directly meet the needs of the victim and working with the client and the manager to make appropriate referrals.
Liaising with staff to arrange practical help for victims (such as lock fitting).
Giving information about other agencies and their procedures.
What skills do I need?
Approachable and non-judgemental manner

Good listening and verbal communication skills
Ability to problem solve
Basic IT skills
Ability to volunteer within our values, policies and procedures
Find out more, and apply here.     
Information shared in ebulletin dated 04.09.20
Volunteer Police Chaplains wanted 
North Wales Police are looking to recruit Police Volunteer Chaplains to offer additional support to police officers, staff and their families across the force area.  Chief Officers, the Workforce Representation Team, alongside the Citizens in Policing Team have been focusing on the development of additional multi-faith volunteer Chaplains, to help provide pastoral and spiritual care for the police service in an increasingly challenging time. 
 
You can read more here. 
Questions?  Please email PC 2746 Rae Ellis at PositiveAction@nthwales.pnn.police.uk.
---
Care and Repair North East Wales Board vacancy          
Please find below the Board Recruitment pack containing further information. We are currently recruiting for Non-Executive Director positions.  We are looking for people who share our values and can use their skills, knowledge and commercial acumen to make a real difference to the services we offer now and in the future.
 
Any expression of interest to Wendy.bowden@careandrepairnew.co.uk. 
 
Care and Repair North East Wales Ltd – Board Recruitment pack
Information shared in ebulletin published 25.08.20
Flintshire Volunteer Centre's Supported Volunteering Programme is back!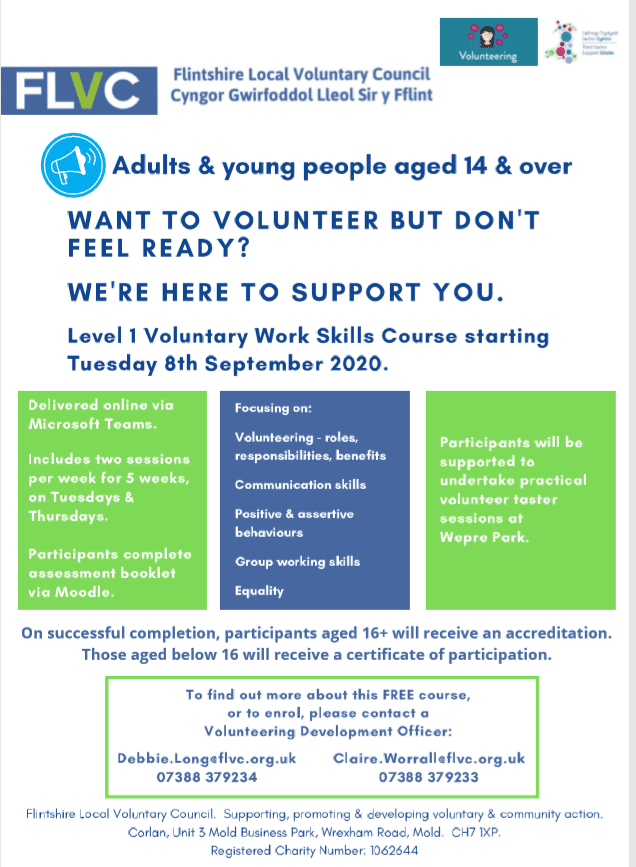 ---
Nanny Biscuit is recruiting Call Buddies
"We are looking for volunteers to join our Call Buddies team (DBS Check Required)." Call Buddies make telephone calls to local people to help prevent loneliness and social isolation. Application form here.
---
Llangollen Railway is looking for a Chair of Board 
"Following an extensive governance review and the subsequent drafting of a 5 year strategic plan, Llangollen Railway is looking forward to appointing a new Chair to spearhead an exciting period of change and restructure, full of opportunities. 
 
The Chair will hold the Board and Management Team to account for the charity's mission and vision, providing inclusive leadership to the Board of Trustees and ensuring that each Trustee fulfils their duties and responsibilities for the effective governance of the charity.
 
You can find further information here.
Closing date for formal applications is 5pm, Monday 21st September 2020.
Interviews will be carried out week commencing Monday 28th October 2020." 
---
Age Cymru – Friend in Need telephone befriending team
"We're looking for people to join our Friend in Need telephone befriending team to connect with older people on a weekly 30 minute friendship call.
By signing up to become a befriender, volunteers help reduce social isolation and loneliness in older people in our communities. Regular social interaction can help to build confidence, self-esteem and structure for someone, amongst many other positive outcomes.
You can find out more information about the service here, and volunteers can sign up via this link."
---
Rosa is looking for new Trustees! 
"Rosa is looking for four Trustees who share our passion for making the UK a fairer, safer place for women and girls. We are committed to being representative of our society and bringing together those with a variety of skills and experiences to shape what we do and how we work. In line with this, we are particularly keen to hear from people of colour as well as people with disabilities.
 
See link  https://rosauk.org/2020/08/13/rosa-is-looking-for-new-trustees/  for the full role description.
 
To apply, please send a cover letter and a CV to Angela Todd Drake, angela@rosauk.org, by Friday 28th August. The cover letter should include your interest in the role and a brief description of the skills and experience you can bring to our Board.  If you have any queries or want to discuss the role further, please email us with your contact details and we will get back to you."
Information shared in ebulletin published 14.08.20
WCVA Resource – Volunteering & Ease of Lockdown
"This guide aims to help organisations to think ahead as lockdown restrictions are gradually eased, to consider how volunteering might resume and what would be needed for this to happen."
---
WCVA – Getting ready to re-start volunteering
As we gradually ease out of lockdown from the Coronavirus pandemic during the coming months, we look forward to involving volunteers once again and re-starting some of the activity which has had to be paused. Fiona Liddell, Helpforce Cymru Manager at WCVA, discusses the way forward and identifies some useful resources. Read more…
---
Volunteering Matters Wales – recruiting volunteers for Rural Wisdom Project in Leeswood & Holywell
Many older people in the UK live in rural communities. Rural Wisdom is working to make rural communities work well for people as we get older and for other people who live there. Read more about the project….

For more information about volunteering opportunities, contact:
shereen.devine@volunteeringmatters.org.uk / 07469 851886
---
HomeStart Flintshire -Volunteer Opportunity – Treasurer/Trustee Role
"Home-Start Flintshire is a non-profit organisation that provides help for any Flintshire family needing support to provide the best outcomes for their children.  During the last financial year we supported 160 families with the invaluable help form our volunteers.  Our volunteers help in a variety of roles including home visiting and group work.
We are currently looking for a new Treasurer to join our existing Board of Trustees to maintain an overview of the scheme's affairs, ensure its financial viability and ensure that the proper financial records and procedures are maintained.
The successful candidate will need to attend a monthly Trustee meeting, currently held on a Wednesday morning, attend project management meetings when required, AGM's and in addition there may be adhoc meetings with the Chair, Scheme Manager and subgroup committees. (Commitments can be seen in the Treasurer's diary below)
We are looking for someone who can commit to the time needed to allow Home-Start Flintshire to continue the valuable support we provide to the community, with experience in Financial Controls ie. An Accountant or similar preferably someone with an understanding of Charity finance although this is not essential.
A formal interview with the Trustees will be required as will an enhanced DBS check.
For further information regarding the role please contact: Sharon Windsor, Scheme Manager by email: sharonwindsor@home-startflintshire.org.uk
Closing date : Wednesday 30th September 2020."
---
Hft – Luv2MeetU Event Volunteer
"Are you looking for something fun to do in your spare time? Do you like getting out in the community and spending time with people? Do you want to make a difference in your community?
Luv2MeetU runs social events in the community for people with learning disabilities. Our activities include day trips, evenings out, going to the theatre, bowling, movies, karaoke and much, much more. As a volunteer you will have the opportunity to come along to events, support the group, socialise and have fun! You will be fully supported by a member of the Luv2MeetU staff at each event, and some volunteers are also supported to run their own outings in the community, independently of staff.
About Luv2MeetU:
Luv2meetU is a friendship and dating agency for people with a learning disability aged 18 and over. We support people to make friends, share interests and develop relationships. We are a community interest group that is supported by Hft. Luv2meetU runs services across a number of locations across the north of England including, Bradford, Calderdale, Kirklees, Leeds, Wakefield, Sheffield, Cheshire and Newcastle and now Flintshire in Wales.  Read more & apply here.
---
Re-engage pan Wales call companion volunteering opportunities.  Call Companion Coordinator. 
"As a call companion coordinator, you will be the main point of contact for all of the call companions and older people in your group. Our call companion coordinators are a vital part of the Re-engage team, ensuring that their group of call companions have all the support and information they need to make regular friendship calls to older people."
---
Our Sam have volunteering opportunities for an experienced Chair and Treasurer to support the first steps of our journey raising awareness, understanding and levels of support for babyloss as a result of miscarriage, stillbirth or neonatal death.