To receive updates on our grant funds, subscribe here.
Youth Led Grant *** Now accepting applications **
Application Form
Guidance notes
---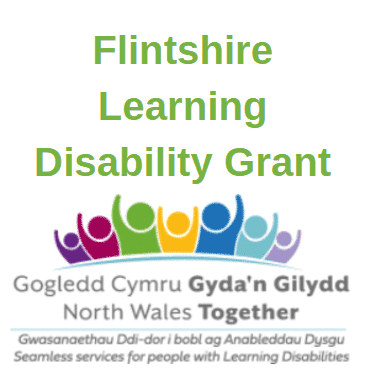 The deadline for applications is 5pm on Wednesday 9th December 2020.
This grant fund is part of North Wales Together Seamless Services for people with Learning Disabilities whose aim is that people with learning disabilities will have a better quality of life; living where they feel 'safe and well', where they are valued and included in their communities, and have access to effective personal support that promotes independence, choice and control.
Grants of up to £1,000 are available for:
Providing support, learning or leisure activities that promote independence and wellbeing, such as, delivering:

Activities which help friendships and relationships develop.
Activities which provide early years support          

Acquiring resources for delivering community-based learning or leisure activities, such as equipment, digital resources, sensory toys etc.
Embracing new methods of working such as digital delivery e.g. new technology to improve communication and/or promote independence
The fund has a total budget of £5,000. 
Grants will be awarded before the end of December. Please note grants need to be spent and projects completed by 31st March 2021.
 For more information please contact info@flvc.org.uk or tel: 01352 744000.
Guidance notes
Application form
---
The main Voluntary Services Emergency Fund (VSEF) is funded by Welsh Government to support vulnerable people affected by the Covid-19 pandemic.  The VSEF model has been used to disseminate this Comic Relief funding. This VSEF grant is funded by Comic Relief from monies raised from the Big Night In. This grassroots funding aims to reach the community groups leading change and growth in their locality; enabling them to make positive changes in response to the specific needs of the community.
 Applicants will need to demonstrate that they are working in line with one or more of Comic Relief's Strategic Themes:
​Children Survive and Thrive: Actions to give children the best start in life and access to opportunities to achieve their potential
Gender Justice: Actions to improve equality for women and girls
A Safer Place to Be: Actions to help vulnerable people to improve their circumstances and safety
Mental Health Matters: Actions to enable access to support and increase awareness
Apply now for a grant of up to £2,000
Projects must be completed by March 2021
More information about the four strategic themes of Comic Relief is available on their website.
To discuss your ideas, or if you require assistance with your application please contact Heather Hicks heather.hicks@flvc.org.uk 01352 744004
---
Flintshire Community Chest
Closing date:
Round four – 5th March 2021.
Flintshire Community Chest Grants are available to support community activity. Applications are now being accepted from organisations benefiting people from Flintshire for a grant of up to £ 1000.  The aim of the grant is to support one off initiatives such as:
• Minor capital projects for example, building repairs and updating internal fixtures and fittings.
• Community events
• Equipment but not consumables*
• Feasibility studies
• Publicity / marketing
• Training and awareness events/courses
• Responding to national, regional or local emergency situations
• Recovery from a national , regional or local emergency situation
Grants will only cover 75% of the total cost, so match funding is essential.
Please note, the maximum of £ 1,000 can only be awarded once in a 3 year period. Successful applicants must wait 12 months before reapplying.
For more information or to request an application form, please contact: Heather Hicks on Tel: 01352 744004, or email: Heather.Hicks@flvc.org.uk
Application form
Guidance Notes
Ffurflen Gais Grant y Gist Gymunedol Cyngor Sir y Fflint
Nodiadau Canllawiaw