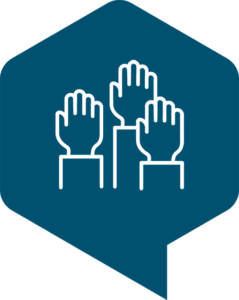 Become a Member with FLVC today!
Flintshire Local Voluntary Council are here to support, promote, develop and represent the Voluntary and Community Sector in Flintshire and will help wherever we can.  We are a membership-based organisation which helps to ensure that we work with you and for you.
At FLVC we are seeking to welcome new members to the organisation to ensure our work is informed by those we are here to represent,
By becoming a member you will
Be kept in touch all the up-to-date info – including e-briefings containing information on funding, training, volunteering, good governance etc
and events
Receive invitations to events and meetings - from FLVC's Annual General Meeting to briefings on new government policies and initiatives, to more local events on funding opportunities and other topics. FLVC can put you in touch with people in the same area of work locally, Flintshire-wide, Wales-wide or internationally
have a say on issues that matter - be consulted and have your responses heard.  FLVC shares your voice with key partner agencies including Flintshire County Council and Betsi Cadwaladr University Health Board, and nationally through Wales Council for Voluntary Action with the Welsh and UK Governments.
Membership is free Full Members also receive a vote at our AGM
Full Members:
Third Sector organisations applying for full membership must also provide a copy of their current governing document (constitution/rules).
(Individual and Associate membership is also available)
If you would like to become a member please download and complete our Membership Application form: