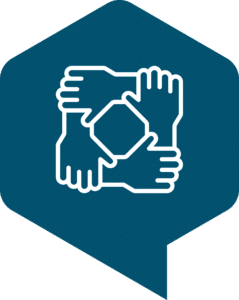 HOW WE WORK TOGETHER OVERVIEW
The Wellbeing team in FLVC support the third sector and statutory partners in a number of ways:
Strategy
Promoting third sector organisations, services and activities to statutory partners
Representing the third sector at strategic planning and partnership groups
Engaging the third sector in consultations and engagement about health and social services
Promoting partnership working within the third sector and across sectors
Development
We can help support organisations by signposting or providing business support, governance and funding advice
We provide training to organisations to improve their capacity and effectiveness
We can explain the complexities of commissioning and procurement
We can help keep you up to date with the latest evidence base, and guide you through the changes in NHS and local authority structures
We can help you start up a new service or group
We can support the third sector in Flintshire to access FLVC's  services
Provision of Information, Advice and Assistance
We work alongside statutory partners to provide information and advice to the public, about third sector organisations, services and activities
We raise awareness among professionals of third sector provision in health, social care and wellbeing
We work with statutory partners to develop information and advice services including the Single Point of Access (SPoA) and Dewis
Whether you want to develop new services or expand existing ones, highlight needs or influence service planning and delivery, FLVC can help in a variety of ways. Working together with other voluntary sector partners and statutory organisations, you can share ideas and expertise to ensure your services and activities complement each other. This section of the website tells you about current partnerships and more.
Partnerships, Forums and Networks
FLVC and other voluntary sector stakeholders represent the sector on a number of multi-agency partnerships, forums and networks, across a range of service areas.